Women In Sport
March 6, 2017
This past season, Pirates celebrated the 20th anniversary of the women's team, with many of the alumni coming out.  It was a really great event that highlighted how much this sport has impacted each of our lives.  More recently, one of our women's team members, DJTP, threw a party.  While it was tied to a specific life event, it ended up being a party celebrating our female camaraderie.  In honour of International Women's Day this month (March 8th), we are posting a small, and slightly edited, excerpt from the speech at that party.  It wasn't just a celebration of that life event, it was a celebration of how sport brings women together and teaches us friendship, strength, and independence while providing a support system when we need it.  Cheers to all the #womeninsport!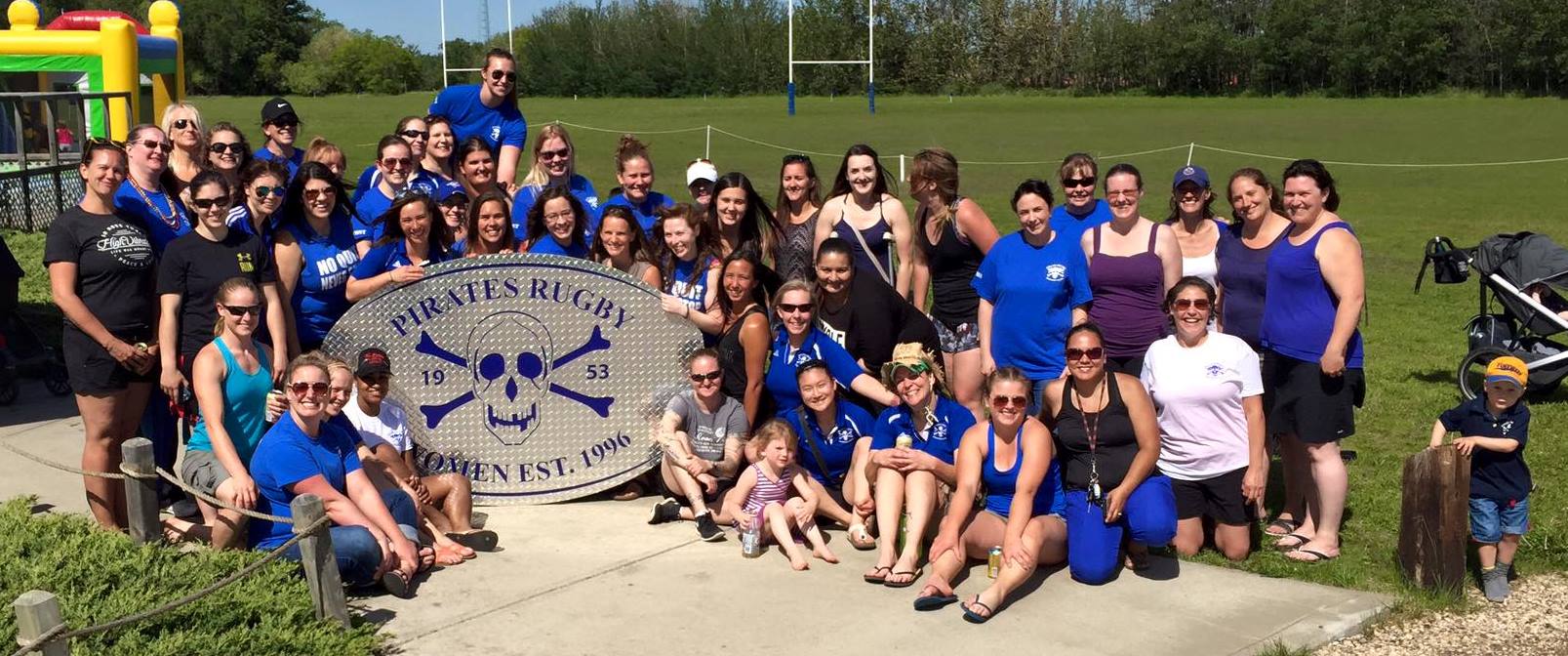 What is weird to me is that the only times that a group of women really get together to celebrate another woman's life is when she is going to become a wife or a mother. Nothing is wrong with either of those things obviously, and they should be celebrated. But I don't know why we don't celebrate each others other big moments with actual events, especially since it's 2017 and not everyone will do either of those things. I'm 100% sure I won't be having a baby shower and 99% sure a bridal shower is out of the question as well, so that left me feeling like I was never going to get a party where we celebrate an important milestone for me. And I'm sure some of you feel the same way. It's nice to be the center of attention and have others congratulate you on a big moment. And there's nothing wrong with wanting that moment once in your life!
I'm so crazy happy that you guys are my friends and that I have such an amazing support system of women. It seems like the world wants us to just hate each other all the time, and I think that's what keeps us as a gender down instead of backing each other up. We do so much crazy s***. We work in industries we aren't supposed to, like the oil patch and as managers and in science and math and in trades, and we buy our own houses and dogs and cats BY OURSELVES. We raise our own kids and we travel the world alone or with each other. We unabashedly play and love sports we aren't supposed to.
I grew up at Pirates and watched a bunch of crazy women beat the s*** out of each other on the pitch, then run along the sidelines in flipflops and sports bras while yelling at the mens team to sort their s***, head back in to this building and slam a beer and then head home to careers and homes and families and kill it in life. Those were the women I grew up watching, and they obviously had an impact on me in a big and great way. My goal was just to be one of those chicks.
For those of you who are having kids, please do and have a bunch, cause this group is who needs to be raising the next generation. And I have no doubt that your daughters will turn out to be badasses, cause they'll be watching us on the pitch swearing and boozing and crushing life and know that they can do the same. But really, teach your sons and nephews and godchildren that the women who don't need them are the women they want and that those women are desirable. Cause then we'll have a generation of men who think equality is normal and holy f***, do we ever need that.
Cause the more we can see each other achieve, the more we know we can do the same. And then we can pass that on to those little girls on the sidelines watching us that it's normal and good that you can have female friends who matter as much or more than husbands and boyfriends.
Hoping to see some new ladies out on the pitch this season!